25 Goth Brands to Spice Up Your Wardrobe and Makeup
Do you want to rock a goth look? If you are fascinated by the goth subculture, you will adore this article, which showcases 30 amazing goth brands, from cosmetics to clothing to accessories, they have it all. You may find it hard to gather all the information and don't know what to choose. No problem! We've tested these 30 brands by ourselves and will tell you what we think of them. This will help you find your perfect goth style.
Goth Clothing
Goth clothing is a big part of Gothic culture. It is a clothing style marked by dark, mysterious, antiquated, homogenous, and often genderless features. Below are the reviews of different brands selling goth products.
Killstar
Killstar is an authorized famous website retailer of goth stuff. The biggest advantage of this website is that they have their own APP where you can easily shop and purchase goth-styled stuff. It also covers the widest range of categories. Clothes from normal tops to bottoms, from classic dresses to corsets and harnesses. They even have a separate line for the summer season, selling goth-styled swimsuits. It also covers all kinds of accessories, home decorations, and other goth-related merchandise.
Gothicbabe
Gothicbabe is a very characteristic website. It focuses on selling fine goth clothing. And you may probably know from the name of the website, that the products and mech on this website are more inclined for adult purposes. The designs of the clothing are more explicit, and compared with the Victorian-styled old fashion goth dresses, sexy lingeries, corsets, stockings, and swimsuits are more common. The website also sells gear like chockers and adult toys for certain special purposes like BDSM and DDLG.
TragicBeautiful
TragicBeautiful webpage screenshot
TragicBeautiful is also a website containing a wide range of all categories of goth merchandise. The layout of the website is great and you can find what you want easily. The models are pretty, which brings realistic and beautiful presentations of goth clothes. There are many featured props and witch gears to fulfill your cosplay dreams. The refined homewares are also worth checking out. Plus, orders from AU and NZ have free shipping!
Cyberdog

Cyberdog online cyber shopping space 
Cyberdog is a really cool brand. You can see that on their webpage. Once you enter the website, you will find yourself placed in a space of high-contrast colors mixing, filled with dopamine-stimulate high saturation colors and RGB lights everywhere. It is fancy and cool. Their products are 100% the same style, cool, unique, and bright. They also have their own mobile app Cyberdog for you to hear about the latest styles & special offers. The website also provides a unique 3D shopping experience, which puts you in a panorama scene and you look around and pick the products you desire. The author took a tour of cyberspace and bought several fashion clothes and accessories. The overall experience is beyond expectation, it is as if you're really shopping in their store. The clothes are also great, the material and product quality are above average. Most importantly, Cyberdog's products can easily provide you with inspiration for outfits that are perfect for going to nightclubs and DJ music festivals. They guarantee you are the most eye-catching on the field. Just be careful with the coloring though, my bright orange coat is too bright which makes my eyes uncomfortable wearing it in the long term, that works the same for all the bright, high-contrast colored, and Fluorescent colored clothes.
Meowcos
Meowcos as its name, focuses on cosplay costumes. It provides a bunch of anime cosplay costumes of great quality. In addition, what makes the purchase experience great on this website is that it collaborates with influencers and goth bloggers to display their products in the showcases. That provides great aesthetics when purchasing products. Meowcos also provides adult series which offer sexy anime lingerie, corsets, and explicit clothes.
Lolitain

Lolitain is one of the best online Lolita costume retailers you can possibly find. As a subgenre of gothic fashion, Lolita style keeps most of the Victorian dress style. They look young, cute, and elegant. The website also provides British-style coats and jackets and delicate Lolita accessories. The author likes anime and his girlfriend is interested in goth culture. So we chose Lolitain and bought several dresses and accessories. The dresses fit well on the author's girlfriend, and are of good quality and durable, suitable and comfortable for wearing in the long term. The dresses are surprisingly fit for petite girls. The accessories compared, have lower quality, but they are really cheap, you can totally use them for once and throw them away.
Moonmaiden
Moonmaiden would be my personal choice if I decided to dress up like a witch during Halloween. The website of this brand is quite characteristic and gives a dark magic feeling, which increases the immersion while shopping. The robes, dresses, and gowns are delicate and vivid, which fulfill all your imagination for witch cosplay.
DrFauste
DrFaust focuses on providing top-tier gothic fashion clothes and accessories. The products are all in cool fashionable artistic style, which is combined with gothic rock music and modern popular culture. The "Submit your soul" slogan and multi-mixed elements make the merchandise of this brand unique and heathenish odd.
The Black Ravens
Black Raves webpage screenshot
The Black Ravens is An Online Marketplace of Gothic, Punk, and Alternative Clothing and Accessories. The Black Ravens was founded in 2016 by a group of rebels in the UK wanting to break free from the norm of boring mall clothing stores. They couldn't find a one-stop shop that helped them express themselves and their looks, so they created TheBlackRavens.com (TBR) - a site that celebrates their attitudes and provides the clothing, jewelry, and items they wanted in order to show off their unique tastes.
VampireFreaks
Vampirefreaks webpage screenshot
VapireFreaks is definitely a great devoter for developing and spreading Gothic culture. VampireFreaks sell hard-core gothic clothes. The graphic tops of this brand are phenomenal. The elements of dark, magic, hell, demons, and devils come across and all the products are gothic rock style, which is weird, horrifying, and cool. The author bought several skirts and shirts to try on. The patterns on the tees are in total 100% gothic-rock style. The author is very satisfied with the graphic designs. There are also many different kinds of tees, which are all suitable for matching with jeans and short kilts. In that way, you can easily blend some real goth elements into your daily outfit.
MidnightHour
MidnightHour webpage screenshot
Midnight Hour is a designer brand for the dark fashion lover who plays by their own rules. The essential idea is to look out for all witches and ghouls by combining traditional goth and witchy designs with unique alternative fashion details. They are constantly adding more styles and new designs into their creations and will put them on the racks.
PunkRave
Founded in 2006, PUNK RAVE Ruier Clothing Co.,ltd is the earlier PUNK, GOTHIC, LOLITA style Asia design clothing famous brand in China. PUNK RAVE Gothic romantic classicism feelings are spelled with the punk-like rebel's strong personality, combined with the contemporary characteristics of the scenario to imagine, design a distinct personality fashion clothing, also hope to through fashion arts to inspire behavior, and to meet those people with same" No depressed, never slavish" punk feeling just like PUNK RAVE.
RoroxBoutique
RoroxBoutique webpage screenshot
RoroxBoutique stocks the top leading brands in gothic, punk, and vintage-inspired clothing so you can shop for everything in one place, no matter your style. From 1920s flapper dresses to plus-size alternative clothing, there's something for everyone on our website. The dresses are characteristic and fit really well on our models in the studio. The cuttings are neat and clean. Although lacking diversity in types of dresses, the patterns make up that shortcoming. The comforts didn't compromise the nostalgic design at all, that totally worth a thumbs up. You may also match the dress with a fascinator, which will make you look retro and elegant. 
Hot Topic
Hot Topic is the best goth website that suits most people of all ages, particularly anime lovers and kids. What makes it so great is that it collabs with popular IPs like Indiana Jones, MARVEL, Jujutsu Kaisen, The Witchers, Dragon Balls, and so on. It is definitely the perfect brand for anime fans to visit. As an anime fan, the author bought several accessories from the Marvel collab series. The figures and graphics on the water bottles and accessories are legit and aesthetic. Don't like many other brands, get IPs and collabs and just sell the IPs to the fans. Hot Topic earns everyone's respect for its tough product quality. And the writer will shop on their website again.
Gothmall
Gothmall cherry-picks the best Goth, Punk, and Alt products from all over the globe so that you can enjoy a convenient one-stop online shop. They add new items and vendors every month! The beauty of Goth Mall is our eclectic mix of vendors from all over the world.
Goth Accessories
PlushThis Goth Plush Toys
PlushThis Goth Plush collection screenshot
Do you want some delicate decorations in your house to add some more goth atmosphere? Come check on our website PlushThis and pick a gothic stuffed animal for yourself! PlushThis is a brand and dealer that has its own design and selling website. It innovatively utilizes AI tools to design figures and provides the finest stuffed animals. And one of its featured series is the Emo Plush and Goth series, which combined emo or goth-styled clothing with cute stuffed animals to create new fashionable styles.
Kinkyangel
Kinkyangel accesspries webpage screenshot
Kinkyangel sells a wide range of Gothic, Steampunk, and Alternative Clothing and Accessories. Many brands you can find in stock in Kinkyangel, that include New Rock Boots, Spiral Direct, Restyle, Punk Rave, Red Queens Black Legion, Banned Alternative Wear, Poizen Industries, Hell Bunny, One Direction, Alchemy Gothic, Dark Star, Burleska, Demonia and Pleaser.
EverythingSkull
EverythingSkull icon cover screenshot
Claiming to be the world's largest collection of skull and gothic merchandise, EverythingSkull allows you to browse through their continually growing skull and goth collections and discover unique skull and gothic products to add to your own collection. At Everything Skull, you will always find excellent deals at affordable prices that are unique and hard to find in other stores.
InkedShop

InkedShop is a very characteristic brand that mainly deals with tattoo products. It covers a wide range of merchandise related to tattoo culture and gothic culture. It also provides accessories of great quality from many brands, at a pretty fair price. Go check it out and pick one to match your tattoo.
Goth Cosmetics
Blackmoon
Since 2015, Black Moon Cosmetics has always brought you quality Cruelty-Free & Vegan beauty products from the darker side to grace that beautiful face of yours! Inspired by the mysteriously magical moon and all its emanating beauty, Black Moon combines the dark with the colorful & shiny to create an ethereal makeup world that matches the gothic style perfectly.
JolieBeauty
Jolie Beauty is a gothic makeup & alternative cosmetics brand. Unique and magical makeup products for witches, vampires, and those who want to SLAY. It also offers colorful cosmetics skin care products.
ConcreteMinerals
ConcreteMinerals webpage screenshot
With the pretty slogan: "All Sass, No Trash, Beauty Built on Concrete Values", ConcreteMinerals provides 100% vegan, cruelty-free, talc-free, preservative-free cosmetics. They focus on customers' health and are passionate about creating high-end vegan, cruelty-free products with a unique twist! All the sass of your favorite cosmetics brands, with none of the trash ingredients.
LimeCrime

LimeCrime product page screenshot
LimeCrime is a great brand recognized by the market. It sells colorful makeup and the brand's slogan is "Never blend in", just like the novel products it offers. The cosmetics are also high-impact and colorful, which provide statement-making shade ranges and finishes in crave-able formulas and textures.
Lunaticklabs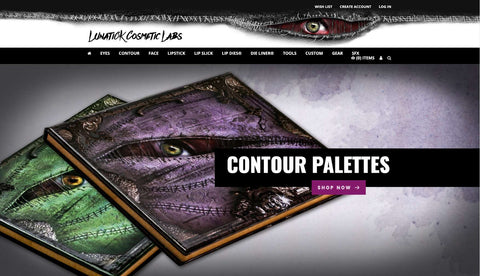 Lunaticklabs webpage screenshot
Established in 2012 by working industry professionals, LunatiCK Cosmetic Labs specializes in vegan, talc-free, cruelty-free cosmetics made with the finest quality & ethically sourced ingredients. Their cosmetics are geared towards alternative ladies & gentlemen, stage performers, makeup artists, special effects makeup artists & everybody in between.
What Makes the Best Goth Brand?
Overall, the best goth brands usually have innovative designs, great and stable product quality, appropriate pricing, and a wide range of coverage of all kinds of goth merch.
Design
The best goth brand should have a distinctive and creative design that reflects the goth culture and aesthetics. The design of a brand is the root of it. While sticking to the core of the gothic spirit, the design should also be versatile and adaptable to different occasions and moods, such as casual, formal, romantic, or spooky. This is because the difficulty with the design of goth clothing and accessories is that nowadays different cultures have mixed together and it is hard to design something to just simply satisfy core fans of goth culture. Also, the designs can't be too "hard-core", or many won't be able to accept them. So, finding a balance point where you can please most people from different cultures is really important.
Quality
Crafting and manufacturing in order to control product quality are vitally important. For goth clothing, some people might wear them all day and that's pretty demanding for the durability of the products. Also, comfort is a factor to consider. The difficulty of caring for the props and clothes counts for product quality as well. For cosmetics, make sure the products are harmless and non-toxic, and also make sure that they are brutal-free. But all in all, the overall quality should match the product prices, in order to make customers feel deserved, so they will come back shopping again.
Price
The best goth brand should offer affordable and reasonable prices that suit different budgets and needs. The price should also reflect the value and quality of the products, in order to make customers feel deserved, so they will come back shopping again. As well as the ethical and environmental standards of production and sourcing, to make production legal, and products produced safe while being eco-friendly.
Collection
A sophisticated brand would expand its product lines and start multiple series. In that way, the service provided can serve a wider range of customers. The collection should also be updated regularly with new and innovative products and filled with new concepts and designs, in order to keep up with the trends and demands of the market.
Final Thoughts
You have just seen 30 of the best goth brands that I personally love and tested with my own money. I'm sure you can create the most awesome goth look with these brands, depending on their unique features and styles. Whether you want to rock the goth style every day or just spice up your Halloween outfit, they will make you stand out.
FAQs
1. What are brands like Killstar?
TragicBeautiful
Compared with Killstar, TragicBeautiful is more regional and more comprehensive, as it sells multiple brands, including products from Killstar
Gothicbabe
Gothicbabe also sells refined gothic-styled clothes, but compared with other brands, gothic is more indie and the clothes are more mature adult-type.
VampireFreaks
VampireFreaks just like Kilstar, provides great products, yet its style is more of Rock'N'Roll and fashion, but of course, their clothes are gothic authentic.
2. Is goth still cool?
Definitely! Gothic style is still very cool and fashionable today. The Gothic style keeps evolving as the fashion world moves forward. Nowadays, the Gothic style has been taken in by the mainstream, and many of its elements have been split and used in different areas.