3 Cheapest Way To Ship Stuffed Animals
If you have ever tried to ship a stuffed animal, you know how tricky it can be. Stuffed animals are bulky and often expensive, so you want to make sure they arrive in good condition and avoid damage. But how can you find the cheapest way to ship stuffed animals that suits your budget and your recipient's expectations? In this article, we will show you three easy and effective ways to ship stuffed animals that will save you money and hassle. Whether you are sending a weighted stuffed animal, a plush toy, or a giant stuffed animal, these methods will help you pick the right option for your situation. Let's dive in!
Reduce Costs by Packing Your Plushies Properly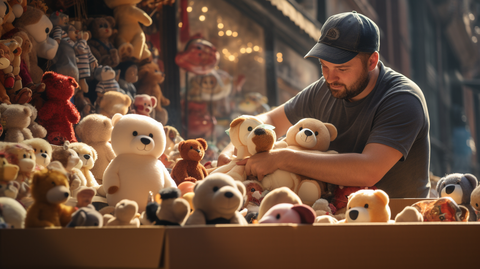 The way you pack stuffed animals significantly affects shipping costs. By learning how to pack different types of stuffed animals in a smart way, you can save money and hassle. Shipping companies usually charge the cost based on weight or volume, whichever is higher, so let's see how to pack for the following four scenarios.
How to Save Shipping Costs for Many Small Stuffed Animals
Reduce Weight
To save on shipping costs, PE bags are highly recommended, which is a lightweight and economical option, and then seal them in a courier bag. Shipping companies usually base the shipping cost on the total weight of the product and packaging.
Reduce Volume
Sometimes, the actual packing volume of many small stuffed animals will result in higher shipping costs than those calculated by weight. In this case, cardboard boxes are needed to pack them and reduce the volume, which can save transportation costs.
How to Save Shipping Costs for Large Stuffed Animals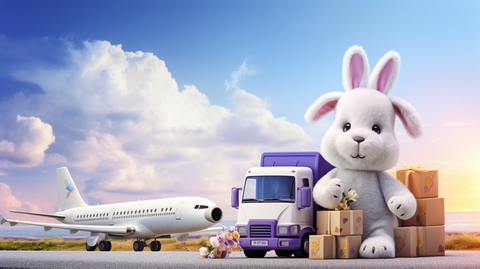 Reduce Volume by Vacuum Compressing
Large stuffed animals cost more to ship by volume than by weight. Shipping large stuffed animals by volume can be expensive. To reduce costs, employ vacuum compression, which lowers volume and shipping expenses. The toys will bounce back to their original shape quickly after delivery.

Disassemble Stuffed Animals and Ship Separately
You can also disassemble the product into two parts and then pack and ship them separately. These two parts are: fillings and stuffed animal covers. The fillings can be vacuum-packed. Or use a PE bag to transport the cover only. After receiving the cover, fill it with stuffing yourself. You can also contact customer service at PlushThis to directly purchase the cover of any stuffed animals on the website.
How to Save Shipping Costs for Stuffed Animals with Batteries
The transportation cost of stuffed animals with sound and light functions will increase a lot. If the battery inside the stuffed animal is removable, you can save costs by removing the battery before packing it for transportation. When receiving the toy, the recipient can buy a suitable battery model locally and install it themselves.
How to Save Shipping Costs for Weighted Stuffed Animals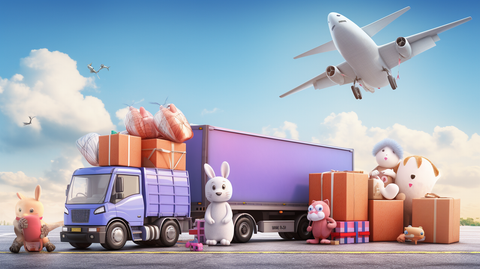 Choose a Lower-Cost Shipping Company
The quality of the filling material of weighted toys is greater than that of polyester cotton, so the shipping cost of weighted toys will be more expensive. The filling material of weighted toys is usually PVC pellets, plant seeds, foam particles, etc., which greatly increase the transportation cost from weight. For this type of product, there is no more effective packaging method to reduce transportation costs for the product itself. Choose a low-priced logistics company for transportation.

Only Transport Stuffed Animal Fabric Covers
Another method is to remove the internal filling material and only transport covers. You can fill them with your favorite filling material after receiving them, such as grains, PVC pellets, foam particles, glass beads, and other heavy items. This way you can reduce logistics costs to a minimum.
Reduce Costs by Choosing Logistics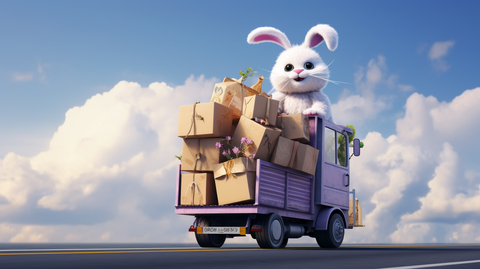 Among the available carriers, Fedex, DHL, and UPS stand out as cost-effective options for shipping. The cost calculation for products generally depends on their weight or volume. If the actual weight calculation results in a higher fee, the carriers will charge based on the actual weight. Conversely, if the volumetric weight calculation yields a higher cost, they will charge according to the volumetric weight.

To make an informed decision and minimize shipping expenses, it is crucial to inquire with the carriers or calculate the charges ourselves. Let's now compare these two billing methods to determine the most economical approach for shipping stuffed animals.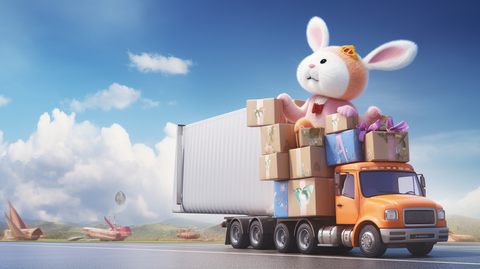 Billing by Volume:
Based on my understanding, DHL and UPS are typically more cost-effective options when it comes to using volume calculation fees.
Fedex: Volumetric Weight (lbs) = (Length x Width x Height) / 139
DHL: Volumetric Weight (lbs) = (Length x Width x Height) / 166
UPS: Volumetric Weight (lbs) = (Length x Width x Height) / 166
Billing by Weight
According to my research, when using weight calculation fees, stuffed animal weights are usually within 2 lbs, so DHL is a cheaper choice.
For goods below 12.13 lbs, DHL is lower than UPS
For goods between 13.23 lbs and 46.30 lbs, UPS is much lower than DHL
For goods between 2.21 lbs and 220.5 lbs, DHL is lower than UPS
For goods above 220.5 lbs, UPS is lower than DHL
FAQ Frequently Asked Questions
How Long Does It Take To Ship Stuffed Animals?
The shipping time depends on the chosen method and destination. Sea transportation takes several weeks or months, land transportation within a week or two, and air transportation within a few days or a week. You can check the estimated delivery time with your logistics company before shipping.

What is the best way to ship stuffed animals?
The best way to ship stuffed animals is to use PE bags or poly bags, which are lightweight and economical plastic bags that can protect your toys from moisture and dirt. However, if your stuffed animals are very large, bulky, or valuable, you may want to consider other packaging options, such as vacuum bags, ziplock bags, or padded boxes.

How do you mail a large stuffed animal?
You can mail a large stuffed animal by using vacuum compression or sending only their covers. You can fill them with your favorite filling material after receiving them, such as grains, PVC pellets, foam particles, glass beads, and other heavy items. This way you can reduce logistics costs to a minimum. Or you can use the disassembly compression method, and pack and ship the cover and filling material separately.

Reference:
https://www.fedex.com
https://www.dhl.com/us-en/home.html
https://www.ups.com/us/en/global.page