Top 10 Gothic Metal Bands That Are Goth Fans' Favorites
Derived from British costumes and Opera, goth music and gothic clothing always have been the most important part of the Gothic culture. As goth music developed, hundreds of gothic rock music bands were established in the late 1970s, all with distinctive styles, and all have accomplished great achievements in the charts and Billboards. But today, the article will only share the top 10 gothic metal bands. If you are looking for the best metal music, or music bands like Nightwish, then keep up with the pace, and feel the power of goth and metal!
Nightwish

Finland's Nightwish is an awarding-winning, best-selling, symphonic metal band started in 1996. Nightwish is well known for its symphonic metal and power metal rock. Nightwish took their melodrama to another level with clear female vocals, choirs, live orchestras, elves, fairies, odes to magic and nature… The honest classical accumulation of Northern Europe and the strong atmosphere of heavy metal screams created Nightwish's heavenly sound.
Nightwish is still the NO 1. In the genre of "melodic power metal", below are several songs you must listen to:
I Want My Tears Back
She Is My Sin
Bye Bye Beautiful
Last of the Wilds
Lacrimosa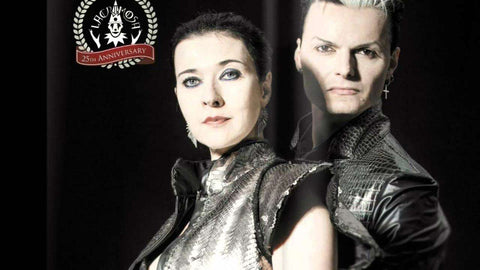 Lacrimosa uses a voice full of repressed and passionate, pessimistic and difficult but brilliant music, telling the fate of the tragedy and hope that can not escape and do not want to forget, guiding the broken soul between the sacred and evil of the inner world. Depicting the struggle between love and despair, screaming pain and sobriety.
Hall of Sermon, an independent label with only nine signed bands, gave birth to a great band, Dark Wave/Gothic/Orchestra, a true superstar in music-Lacrimosa, a Gothic metal band from Switzerland. Tilo Wolff, the soul of Lacrimosa, is a perfectionist artist who shines with fatalistic pessimism. Tilo was born in Frankfurt, Germany, in 1972, when he was 18 years old, he published his first work, and in 1991 began to release his debut album ANGST under the name of Lacrimosa, which immediately attracted people's attention for its suffocating gloomy and sad music atmosphere, innovative lyrics and charming mysterious classicism.
Below are some Lacrimosa songs you must listen to:
Ich bin der brennende komet
Ich verlasse heut' Dein Herz
 Alleine zu zweit
Feuer
Sirenia

The sound of Sirenia has a solid base with powerful drums and bass. The background is filled with rhythm guitars, atmospheric keyboards, violins, and 12-string guitars. The vocal styles include mid-range female vocals, choirs, growls, male screams, clean male vocals, whispers, and noise sampling. The overall atmosphere is intense, diverse, and deep. The melody is groovy as well.
Their albums have a few successes which helped them make it into the charts of several countries. Below are some recommended songs.
Fallen Angel
Lost In Life
My Mind's Eye
Tragedienne
Seven Sirens and a Silver Tearu
Do you know the difference between goth and emo? You might want to click the link to learn about it.

Within Temptation

Within Temptation is melodious but more focused on the emotional presentation of the music, and the main theme is the ethereal voice of the lead singer Sharon, whose tone is more beautiful, and also better in the transition and high performance, fully highlighting Sharon's beautiful voice.
Within Temptation is a Dutch Gothic metal and symphonic metal band formed in 1996 by guitarist Robert Vestal. If you let me comment on this band with only one sentence, I would say it is a genuine strong force of the goth metal category and is one of the most successful heavy rock groups.
Songs recommended listening:
Endless War
Faster
Memories
Shot in the Dark
Epica
Epica is a symphonic metal band from the Netherlands. Epica features with Bel Canto soprano and male screaming. Symphonic Gothic Metal style, Epica's music resembles the name of the band, the music is epic. The magnificent performance, the strong classical singing female vocal is astonishingly beautiful, the symphonic effect of the huge choir with equal momentum and power, and the deadly voice interspersed in the classical singing as if the dialogue between angels and demons are enough to become a magnificent scene.
Founded by Mark Jansen after he left After Forever, and some of the other members also got kicked out of their own band, they surprisingly had a very great chemical reaction and created powerful and epic works. Fans of classical music and metal will love their combination of these two elements and here are songs of Epica you must listen to:
Pirates Of The Caribbean
Cry For The Moon
Abyss of Time-Countdown to Singularity
The Last Crusade
Unchain Utopia
Evanescence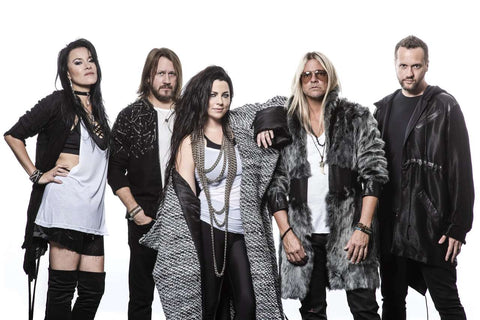 Evanescence is a band from Arkansas, USA. They are a rock band focus on combining rock elements with goth metal. The lead singer's voice has considerably abundant mid-frequency, and unlike the above several bands, Evanescence uses fewer symphony elements and pays more attention to the rhythm of the electric guitar performance.
The band was started by lead singer Amy Cence under the banner of "female Linkin Park" and calls itself "dark rock". Amy Lee, the cool and intelligent 20-year-old lead singer, has been in the spotlight since the beginning. Below are some of their best songs and hits.
Bring Me To Life
Going Under
Everybody's Fool
You may also notice that the dressing and clothing style of the members of Evanescence is pretty novel and gothic. Do you want to learn more about goth fashion and clothing? Click the link to know more about the best goth brands out there!

Xandria

Xandria, a German symphonic metal band, recruited Ambre Vourvahis in 2022 as the new lead singer. Her warm and powerful voice fits perfectly with the new musical direction, which you can already listen to on their new single titled 'Reborn'. A remarkable vocal range, as well as a unique tone, great show, and perfectly tuned sitar; is just a small list of qualities that put Ambre Vourvahis in the league of the most professional vocalists you can see on stage this year.
This German mystic melancholic rock band was founded by Marco Heubaum and Niki Weltz in 1994 in Bielefeld. The band broke up in 1997 but was re-formed in 1999 by Marco Heubaum. They are one of the few bands that are still active til today as this genre gets more and more niche.
Below are some of the former and present Xandria songs recommended:
Eversleeping
Save My Life
Sister Of The Light
Nightfall
A Thousand Letters
Edenbridge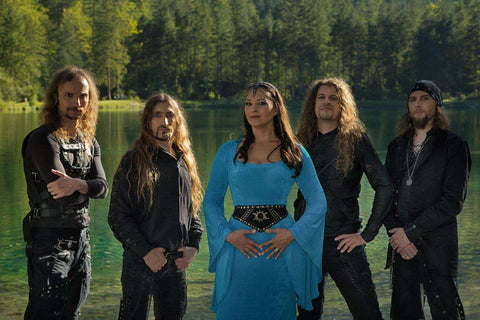 Edenbridge is an Austrian symphonic metal band. The lead singer Edelsbacher's voice, coupled with a surprising foray into flamenco guitar on the minor track and moments of amazing restraint elsewhere, help distinguish this band from all other bands.
The history of Edenbridge begins in 1999 when Sunrise In Eden was recorded in Gandalf's Seagull Music Studio. In the same year, Edenbridge signed a worldwide deal with the German label Massacre Records. Edenbridge is an often-underrated band who are more than worthy of a place alongside the big three of the Symphonic Metal scene (Nightwish, EPICA, and Within Temptation) than their current status affords them.
Songs recommended:
Empire of the Sun
Forever Shine On
Ascending
Shadowplay
The Silent Wake
Images In the Sand
Would you like some goth accessories? How about some goth-styled stuffed animals? Click the link to explore more!

Bauhaus

Bauhaus is typically called the godfather of Goth music. It focuses variously from post-punk to goth metal. The band's musical style features a vampiric and gloomy sound mixed with an extra dose of darkness.
Bauhaus was called initially Bauhaus 1919. It is an English goth band from Northampton, England. Bauhaus is the Godfather of goth music. One of the group's most famous singles was "Bela Lugosi's Dead," which started the goth anthem.
Best albums:
In the Flat Field (1980)
Mask (1981)
The Sky's Gone Out (1982)
Burning from the Inside (1983)
Go Away White (2008)

Theatres des Vampires

Theatres des Vampires is a metal band from Rome, Italy. They used to be melodic black metal, but gradually shift to gothic metal. They are mostly famous for their absolute dominant theme of vampirism in their lines and lyrics. Not only the lines and lyrics, the melancholic atmosphere of their music also pictures the theme. Their vocal styles of akin to gothic metal as well.
Founded in 1994 by Alessandro Nunziati, all the band's members expressed a crazy fascination for vampires. Their work helped give them the name "vampiric metal", which is sort of like a subgenre of goth metal.
Theatres des Vampires's best work:
Kain
Pleasure and Pain
My Lullaby
Solitude
Dances With Satan

Summary
As a senior fan of goth culture and goth music, the writer is fond of the leading 3 bands of goth metal, in which are Nightwish, Within Temptation, and Epica, also appreciating different genres and styles at the same time. The core of goth metal is about rock, symphony, screaming, and the most sincere emotion from the bottom of the heart. Go listen to the music and feel the Rhyme. Also, if you would like some goth merch to decorate for your house, or help your little one get entrance to the area, you can come to PlushThis for the Goth Plush collection. It includes the best goth-styled stuffed animals in the market.