20 Best Stuffed Animals for Babies to Sleep With [2023 Update]
Looking for a present stuffed animal for your children? Come check on our suggestions to help your make your purchase! This article talks about stuffed animals for babies and introduce 20 best stuffed animal of this kind. Be careful choosing a plush toy because they are usually the closest friends whom the young children spend the most time with besides their own parents. The best stuffed animals are also soft, soothing and comfortable. Some have educational functions, and most importantly, they have to be safe.
20 Best Stuffed Animals For Babies
White Rabbit Knitted Stuffed Animal
It's a white knitted bunny, and its fabric is made of organic cotton, which is very skin-friendly and ensures that close contact with baby will not result in allergic conditions. And it looks like a magic bunny from a fairy tale. This will definitely be the best friend of your baby's childhood.
Lovely White Elephant Knitted Stuffed Animal
Like the white bunny above, this
knitted elephant plush toy
is made of organic cotton, very soft and cozy for your baby to cuddle and sleep or play. Its eyes and trunk are hand-stitched, very delicate and durable, won't fall off or hurt your baby. This white elephant plush toy is not only a toy, but also a piece of art, which can be used as a decoration for your baby's room, so that he can see this lovely companion every day.
White Knitted Dolphin Stuffed Animal
Dolphins are friends of mankind, and this
knitted dolphin
has a large size (50cm) and a chubby body that is perfect for babies to cuddle and sleep with. Buying a variety of stuffed animals for your baby can not only accompany your child as a toy and a friend, but more importantly, it can teach them to recognize a variety of animals, which is crucial to your child's early learning and growth.
White Teddy Bear
Every child should have a teddy bear. I think this teddy bear is perfect for that, it has a distinctive lace fabric production, completely lint free, safe and reliable will not cause any impact on the baby's respiratory tract.
Cute Cartoon Vegetables Stuffed Animal
These
cartoon vegetable plush toys
are perfect for teaching your child about various fruits and vegetables. They have a more simulated appearance and cute expressions. What's more they are all priced very low at just a few dollars a piece, which allows you to buy more types at once to teach your baby about vegetables.
Elegant and Charming White Unicorn
Does your child love to fall asleep listening to you tell fairy tales? Then this magical animal
unicorn
will surely be its best companion. This unicorn is made of high quality organic cotton knit material, lint-free and skin-friendly, perfect for baby to cuddle and play with.
Cute Adorable Knitted Little Stuffed Animals PlushThis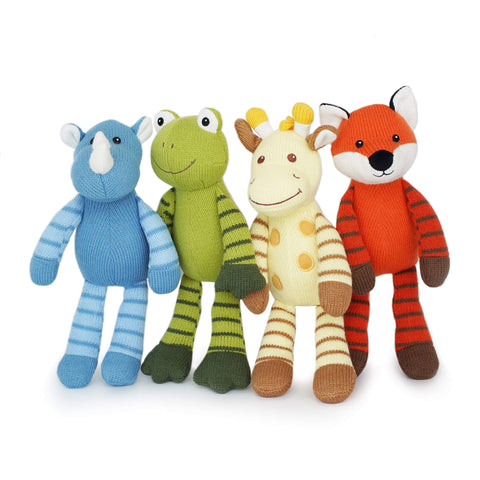 Worrying about long high pile fur on some stuffed animals that often comes off and might choke in your little ones' throats? Think it might be too hot to hug them in bed during night? Come look at this set of stuffed animals designed just for kids. They are elaborately crafted with knitted fabric, the same material on your sweaters! It is soft, ventilating, and most importantly, skin-friendly. It is nice to grab and go to bed with one of these. Also, the cartoon figures, colorful set and the multiple choices of animals are pretty educational as well!
 Tiffany Chubby Hippo Stuffed Animal
This hippo stuffed animal toy is definitely stylish and adorable. The unique tiffany blue coloring of the hippo is definitely for kids with imagination and to show their unique personalities. The coloring is not the only feature it has. The surface is built with corduroy fabric which gives a stripes-like texture of the surface. While staying soft and smooth, corduroy fabric decreases the the contact area between skin and the toy, it is better for ventilation and heat dissipation. This tiffany blue hippo stuffed animal built for young children is not only featured with unique coloring, but also very suitable to cuddle in bed during summer time!
Cute White Puppy in a Mug Stuffed Animal
Look at this little puppy! What an adorable little cute dog! The unique figure with the little puppy sitting inside a mug is so cute and funny. What's more, the fun doesn't end here, the little puppy and be detached from the mug and played alone. That hugely increase the playability. Come bring this imaginative interesting design home! This is one of the best creative stuffed animal for baby kids, and your little one will definitely play with it all day!
Cute Pink Bear PlushThis
The sweet feeling of love? This light pink bear stuffed animal surely can fulfill little girls' love fantasy. The elaborate coloring design with light pink and white makes it look elegant and adorable. The rabbit faux fur not only gives a smooth touch, but also provides a sense of premiumship. The velvet bow tie on its neck adds more charm to its elegance. This bear would make a good decor in the little princess's love fantasy castle.
Cute Lovely Light Green Crocodile
OMG! This Crocodile is so funny, it has huge belly and chubby body, with short arms, tail and two very short legs. The iconic cartoon exaggeration effect pictures an outstanding funny and chubby crocodile. That body shape makes it one of the best stuffed animals for baby to sleep with. Although the sluggish eyes still make people wanna giggle, it has long mouth, scales on the back and corduroy fabric resembling crocodile skin texture that all reflect that it does have some realistic elements, so it would be a good chance for your kids to know more about crocodiles!
Cute Curative Sitting Cat 
Take a look at this fat white cat stuffed animal for children. It is lying prone on the ground, with its lovely short purple hands reaching forward. Crafted with premium faux fur fabric, the quality control is great that no reverse fur or hair can be noticed, which makes it so smooth to touch and cuddle up. This crafting is the most excellent in the market, so it is one of the best stuffed animal available for toddlers. Besides that, the stuffing of this stuffed animal is also excellent, it allows kids to cuddle, hug, or even lie on it.
Magical Cute Unicorn Stuffed Animal
Is your daughter a fan of magic and wonderland? If so, then take a look at this white unicorn stuffed animal. Plain white, with colorful braids and light pink intersperse in eyes and feet. Full of girls elements this unicorn is definitely cute and lovely. The skinny long body is also great for cuddling in bed. Either a decor or play companion, this unicorn will complete its job perfectly. So, princesses and fairy tales lovers, this stuffed animal is probably the best plush toys you will ever get in years! Come get this best magical stuffed unicorn toys for the little girls!
Dark Pink Realistic Flamingo Stuffed Animal
Wow! This flamingo looks like a real one in our life! With the dark pink color of its skin and the light pink legs and feet all resemble real life flamingo. With that funny huge beak, it's gonna make your little one laugh every night before going to bed. The glitter fabric is also great ventilating and soft to cuddle, or even great to use as a pillow.
Life Like Blue Crocodile Stuffed Animal
This iconic crocodile is pretty life-like, with the scales on its back, the stripes texture on its skin makes it looks mighty and overbearing. Its form is perfect for using as a pillow too, the corduroy fabric used increases the ventilation and is great for use in summer time. Are you afraid of the dark? Why not have a loyal mighty animal friend by your side that would assure you during night time? This blue crocodile must be the best stuffed animal for young children in bed.
Lion And Zebra Friends Stuffed Animals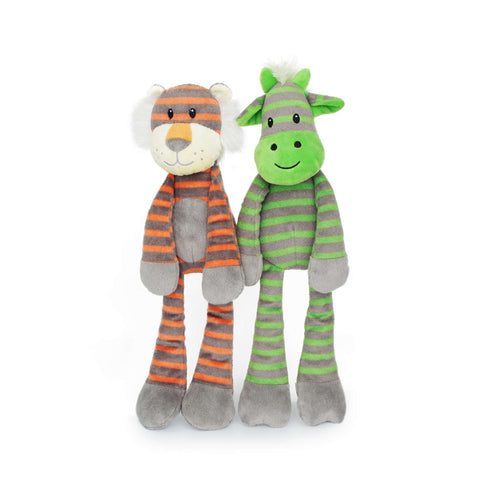 Hey! Check out this set of best-selling stuffed animal plush toys for little kids. It's a cute lion and a zebra, with respectively orange and green colored stripes on their body. It is believed that using bright colors on stuffed animals would always make your little one happier, it's also educational, helping them distinguish different colors. With the best fabric material smooth minky fabric, and quite a considerable 13.5" size, they are so perfect for kids to hold in bed. If you have a pair of twins in the house, then this set is designed just for you!
Rorolulu Rabbit series soft plush dolls
Rorolulu plush dolls are designed and manufactured for babies and kids, and their core selling point is their high level of safety and reliability. Rorolulu dolls comply with the European toy safety standard EN71 and the American toy safety standard ASTM F963. They are made of high quality, ultra-soft fabric, which is extremely soft and cozy.
What's more, rorolulu supports customization, you can have your child's name printed on the toy, and of course you can have your child give its plush doll a name to be printed on it.
Steiff Teddy Bear
When it comes to teddy bears, you can't ignore steiff's teddy bear, the brand that invented the world's first teddy bear. However, this teddy bear will look relatively retro style, but I believe it is also very classy to buy it. Its only drawback is that it is slightly expensive.
JellyCat Rabbit
This is jellycat's most popular rabbit plush toy product, it has a chubby cute body and long ears, and the body size is more suitable for baby to cuddle and sleep. In addition, it can also support customized name printing on the toy.
Hello Kitty 12" Rainbow Unicorn
hello kitty Should be one of every little girl's dreams, this hello kitty plush incorporates unicorn features with added horns. However, the author thinks it is more suitable for little girls and boys might prefer a rabbit or a teddy bear.
What should I consider when choosing a stuffed animal for my Baby?
All in all, considering the safety factor is the primary object. The surface should be soft and you should avoid hard or sharp parts on the stuffed animals. The fabric is also important. It should be soft, smooth, and ventilating. Most importantly, brand and quality matter, some stuffed animals from lower-end brands use worse fabric that always comes off from the toy, increasing the risk of choking your kids with the fur. I suggest buying stuffed animals at PlushThis, the crafting and quality control at PlushThis is at the top level, in which they produce one of the best-stuffed animal products for kids. You should check those premium stuffed animal selling at PlushThis.
It's also important to note that not all babies of all ages are suitable for stuffed animals, check out: when can baby sleep with stuffed animals
FAQ
How to care for stuffed animals for babies?
Stuffed animals for babies need regular cleaning and maintenance to keep them hygienic and fresh. You should follow the washing instructions on the label or tag of the toy. Generally, you can wash stuffed animals by hand or in a gentle cycle in the washing machine. You should also dry them thoroughly and fluff them up before giving them back to your baby.
What are the benefits of stuffed animals for babies?
Stuffed animals can provide comfort, security, and companionship for babies. They can also stimulate their senses, imagination, and language development. Stuffed animals can be used as transitional objects to help babies cope with separation anxiety or unfamiliar situations.
What are the safety standards for stuffed animals ?
One of the most common safety standards for stuffed animals in the U.S. is ASTM F963. This standard has many specifications for different aspects of stuffed animals, such as:
Mechanical tests: These tests check if the stuffed animals can break or fall apart easily, or if they have any hard or sharp parts that can hurt or choke children.
Chemical tests: These tests check if the stuffed animals have any harmful substances or chemicals that can cause allergies or irritation.
Flammability tests: These tests check if the stuffed animals can catch fire easily or burn too fast.