3 Ways to Make Weighted Stuffed Animals
What is a Weighted Stuffed Animal?
A weighted stuffed animal is a stuffed animal with weight added to it. This can be achieved by filling the plushies with any type of weighted filling like rice, plastic pellets, glass beads, and so on.
Due to the different filling materials, some of the weighted stuffed animal can be temperature controlled, it will be possible to simulate the temperature that people feel comfortable. Imagine holding a warm weighted plush toy in winter, it's not just the touch of skin but also the warmth of the soul. The weight of these toys feels like holding a real small animal. Now you are able to give your bunny doll a hug and feel it will hug you back. With a weighted bunny doll, you can experience gentle pressure stimulation that will soothe and calm you like a real hug.
Weighted plush toys have many benefits. They provide deep pressure stimulation that stabilizes and calms the nervous system, similar to cuddling. When you use them, your brain releases serotonin and dopamine, which can help relieve physical symptoms of anxiety such as muscle aches and tension, shortness of breath, increased heart rate, and tremors. As your breathing slows and your heart rate decreases, you just feel relieved. They can also help adults with sleep issues or children who often cry at night because of insecurity.
Method 1: Use existing ordinary plush toys to make weighted plush toys
This method is quite easy because one of the most important raw materials - old stuffed animals - is what you already have. It is applicable to old plush toys, which can be achieved by modifying and replacing the stuffing.
Preparation for making a weighted stuffed animal
You will need various tools and materials to create a weighted stuffed animal, such as sewing machine, needle and thread, weights(stuffings), fabric adhesives, scented material, seam ripper.
Step 1 Cut the plush toy along the original stitches
Cutting along the original stitching of the plush toy will help you achieve a better result. You don't need to cut too much, just make it big enough to remove the original stuffed filling material. This will make it easier for you to replace the stuffing or repair any damage to the toy.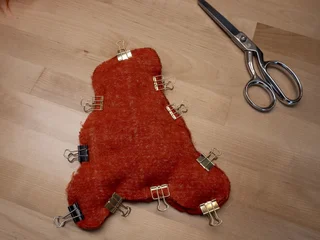 Step 2 Remove the original filling material
To remove the original filling material, you can simply draw it out. Then use tools such as tweezers to clip out the filling from the extremities.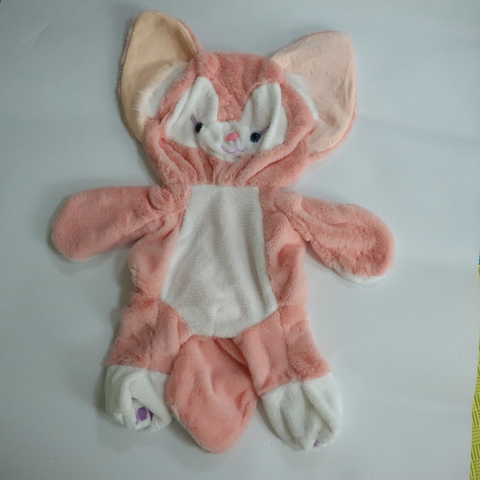 Step 3 Add new weighted fill material
You can choose different materials and decide the amount to add according to the weight and fullness you need. For items that come into direct contact with the skin, it is important to choose safe and non-toxic materials.
Plastic Poly Pellets: Plastic poly pellets are one of the most common fillers used for weighted plush toys. This material is also commonly used to fill the bases of dolls to help them sit up straight. The poly pellets are non-toxic and completely safe.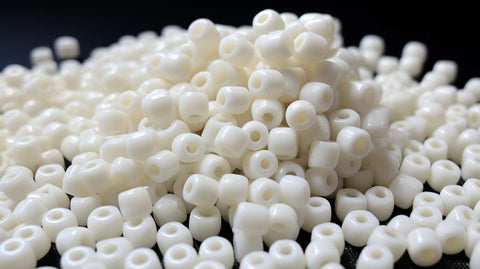 Glass beads: Glass beads has a smooth surface. It is an environmentally friendly alternative to polyethylene pellets, and is completely hypoallergenic. These materials are machine washable and dryer safe.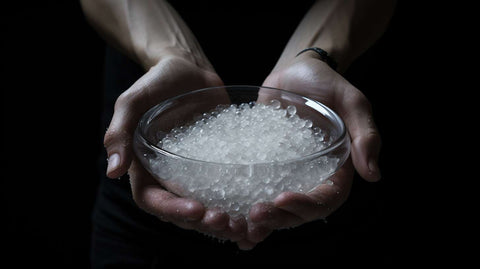 Sands: Sand can also be used as a fill material for weighted plush toys. Note that sand is tend to clump, especially when it gets wet. Sand is more likely to leak through stitching than other materials. If there is a leak, sand is also more difficult to clean off than pellets or beads.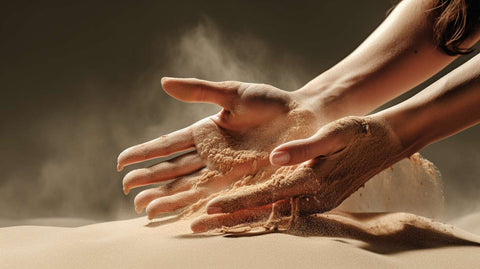 Rice, beans and other grains:Sometimes grains such as rice, beans, corn are used as filling materials for weighted plush toys. They are easy to get, but eventually they are not durable materials. So this type of material is not recommended.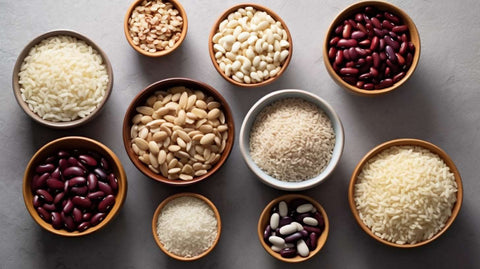 Step 4 Sew the opening and finish making the weighted plush toy
Sew along the original opening. You just made the first weighted plush toy of your own!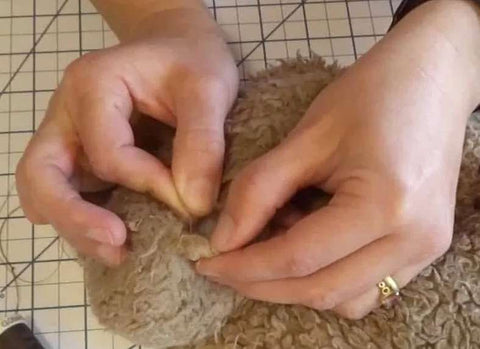 Method 2: Make a weighted stuffed animal completely by yourself
Creating a weighted stuffed animal is simpler than you might imagine. To begin, come up with a design that you like. Then, collect the materials you'll need and cut out the pieces for your plush toy. Once you have everything prepared, sew the pieces together to make your weighted stuffed animal.
Make your own weighted stuffed animal based on designs
First, you need to decide on the art style you want to use when making your own weighted plushies. Instead of drawing the design yourself, you can use AI tools to help you present ideal results. One such tool is Midjourney, which allows you to create beautiful drawings by entering a simple description.
STEP 1. Type /imagine and use the specific description to express what kind of weighted plush toy you want.

STEP 2. Midjourney will generate four images for you. You can generate designs several times according to your preference and choose the one you like the most. You can also add more details on top of that.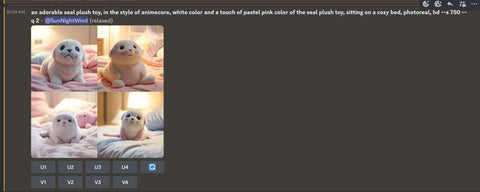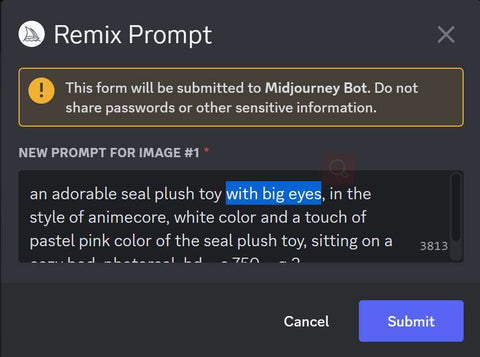 STEP 3. You can make a design drawing that closely resembles your ideal reference image. To create the theme you desire, just upload your favorite image as your foundation. After you complete the description words, Midjourney will create an image in the same aesthetic as your original material. You may now proceed.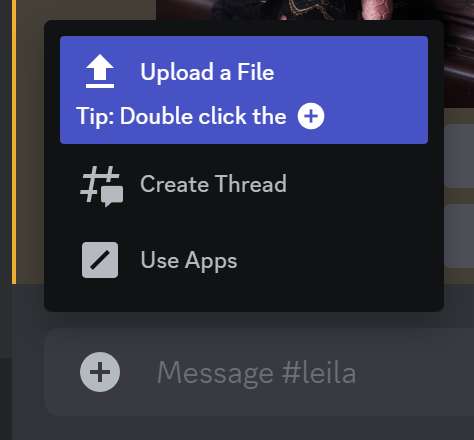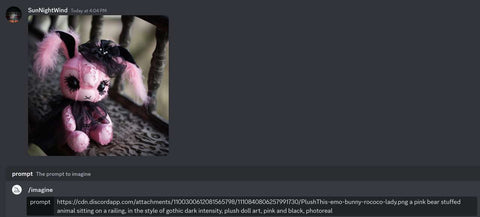 Prepare the materials needed to make a weighted stuffed animal
In this part, you'll need to decide which facrics to use and what materials to filled in the weighted stuffed animal. Please follow the above methods and steps to prepare materials for your weighted plush toys.
Method 3: Create weighted plush toys through Plushthis's custom service
Plushthis is a company that can turn anything in your life into cute stuffed animals. They offer a customization service where you can create your own weighted plush toys by giving them anything you want. You can also buy retail or wholesale products directly from their website.
Design your weighted plush toy through AI
You can still make your own weighted stuffed animals even if you know nothing about art, painting or design. Follow the instructions above, you can use AI tools to generate your desired weighted plush toy rendering and submit it to Plushthis. Expert designers will assess the fabric, stuffing and other materials to accurately reproduce your design. For more information, please contact customer service.
Participate in Plushthis's crowdfunding project
On a daily basis, Plushthis designs and produces an extensive amount of weighted stuffed animals using artificial intelligence. Plushthis will also choose the top designs and start a crowdfunding campaign. As a way to acquire a beautiful weighted stuffed animal, be sure to join in the project if you are interested in a certain product.
FAQ
How to clean weighted stuffed animals?
Cut the fabrics and hand wash it. Remember to be gentle and avoid harsh chemical detergent or rough scrubbing when washing your stuffed animals. Try to use a hand wash laundry detergent or other mind cleaning solution to protect the fabrics. Then you need to sew the fabrics back to your plushies. Small stains can be wiped directly with cleaning wipes.
Can you use rice to weigh down a stuffed animal?
Yes, you can use rice to weigh down a stuffed animal. However, it is not recommended for children below the age of two and people with breathing issues. Over time, rice can attract bugs and vermin and eventually rot, which can damage the fabric of a stuffed animal. Sometimes it even contains insect eggs that could hatch.
Are weighted stuffed animals Safe for babies?
Generally speaking, weighted plush toys can be safe for infants and toddlers if they are made with quality materials and properly constructed. However, it is important to note that the safety of these toys also depends on whether the fabric and filling materials meet the safety standards for infant use. For example, the fabric should be soft and breathable, while the filling should be hypoallergenic and free of harmful chemicals. It's always a good idea to check the manufacturer's label or website for information on safety standards and testing before purchasing a weighted stuffed animal for your child.
Summary
A weighted stuffed animal is a stuffed animal with added weight that provides deep pressure stimulation. This stimulation stabilizes and calms the nervous system, similar to the feeling of cuddling. In this article, we introduce three different ways to make a weighted plush toy. The first method involves using existing ordinary plush toys and adding weight to them to create a weighted plush toy. The second method is to make a weighted stuffed animal completely by yourself. Finally, we took a look at Plushthis's custom service, which allows you to design your own custom stuffed animals and have it made with the added weight you desire.