World's Largest Stuffed Animal: Are There New in 2023?
You may have seen stuffed animals in different sizes, from 8" to 12" or even 14" to 20". But have you ever imagined how huge a stuffed animal can be? How about the ones that break the Guinness world record? You won't believe how gigantic some of these stuffed animals are! And there are more coming up in 2023! In this article, we will show you some of the most colossal and impressive stuffed animals around the world. Get ready to be amazed!
Giant Teddy Bear In Mexico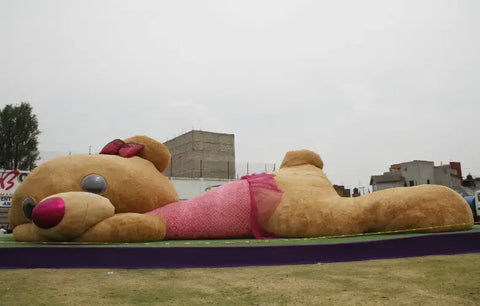 Speaking of the largest stuffed animal in the world, the teddy bear in the world can be found in Xonacatlan, Mexico. It is measured 63 feet, which is 19.41 meters. It was constructed by Municipio de Xonacatlán, Ideas por México and Agrupación de Productores de Peluche (all Mexico), in Estado de México, on 28 April 2019. The bear was displayed at the local stadium in the city of Xonacatlán and was made with the same materials as a commercially available teddy bear, including details such as tiara, dress, eyes, and nose. The event was organized in order to promote Children's Day in Mexico.
Giant Pink Rabbit In Italy(Decayed now)
If you lived in Artesina, Italy, in 2005 you would be surprised. Just over one night, on top of the hill of the many 5,000 foot high mountains, a gigantic pink bunny lay down there on the top of the hill. It is 200 feet long and 20 feet high, which sure was pretty magnificent and conspicuous. Its long ears and legs are placed randomly in weird positions, making it a bit scary while funny. The author of this work encouraged visitors to climb, jump, or take a short rest on top of the bunny's body, which would make them feel like entering into the realm of giants.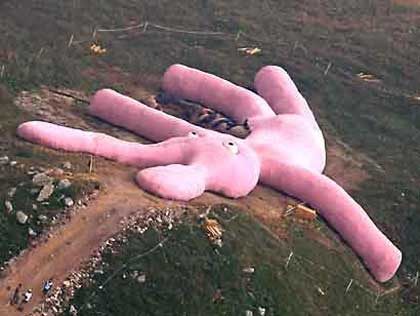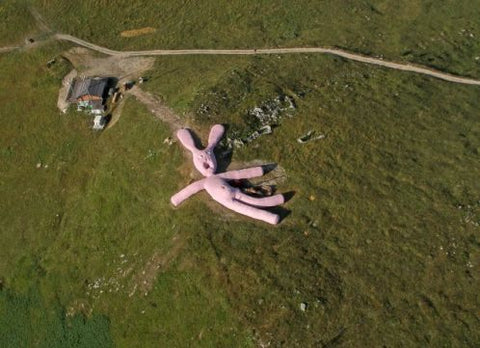 This pink rabbit is the largest bunny stuffed animal that ever existed, and it is truly a miracle. The stuffed animal was expected to last until 2025, yet nature decomposed it almost completely in 2016.
Well, you probably won't be able to get a stuffed bunny huge as this one, but you can definitely get a cute bunny stuffed animal from PlushThis! Come check it out! 
Largest sloth stuffed animal in the world
If you are a sloth lover, you will definitely like a special product on the Plushthis showroom. They offer a special product that you will adore: the largest sloth plush toy in the world. This plush toy is 2.2 meters tall, and it dwarfs a 1.78m girl in comparison. It is not only adorable in appearance, but also made of high-quality materials that are soft to the touch. You can cuddle with it, sleep with it, or use it as a decoration in your living room. 
If you want to
make your own plush toy
, Plushthis can also help you with that. They have professional designers and factories that can create plush toys of any size and style you want. You can customize your plush toy to suit your personality and preferences. Just visit the Plushthis website and browse their amazing collection of sloth plush toys. You will surely find the one you love.
Largest stuffed panda in the world(Virtual)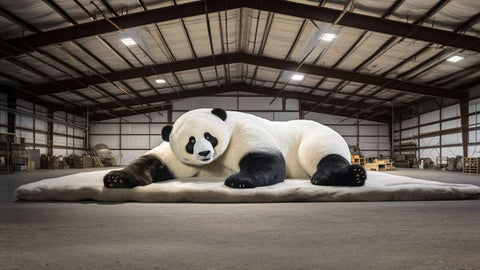 Do you know about a newly emerged definition called Metaverse? The largest stuffed panda is located there! A metaverse is a collective virtual shared space, created by the convergence of virtually enhanced physical and digital reality. NFT is one of the descendant concepts of Metaverse. Simply explained, NFT is the unique virtual items created and can be used in Metaverse. They are digital content, and can only be stored in digital space. This huge stuffed panda is created in digital form. Just like a real stuffed panda, in reality, it also has indices like size, fabrics, stuffing material, degree of wearing, etc. What makes it special is that the pandas are limited and every panda has its own indices, so technically every panda sold is unique. The first NFT panda released is named ChooChoo, what a cute name! By the way, do you need a name for your stuffed animal? Click the link to read more!
Is there a bigger one coming up in 2023 Or Future?
If you love large stuffed animals, you might be wondering if there will be a bigger one coming up in 2023 or the future. Well, the answer is yes. Plushthis, the website that offers the largest sloth plush toy, has some exciting news for you.and they have more amazing products coming up. They are going to launch a crowdfunding campaign soon, so you can support them and get your own giant plush toy in the future. You can also customize your plush toy according to your preferences. Plushthis can make any size and style of stuffed animal you desire. They can even make a 20-meter-high one, but you might need a lot of space to
display your stuffed animals
. Before you order your plush toy, don't forget to check out the fabric and other materials they use to ensure the best quality and durability.
The world largest stuffed animal still
 belongs to a teddy bear in Xonacatlan, Mexico, that is 63 feet tall. However, it is lying down, so it could be beaten by other stuffed animals that are sitting or standing up.
Are you a fan of large stuffed animals? Maybe Plushthis will break the record soon with their amazing creations. Don't miss out on their updates and visit their website today.
You may also like:
Stuff Your Collection with the Best Stuffed Animals of 2023
3 Ways to Clean Stuffed Animals for Different Materials
10 Best Stuffed Animal Brands: A Guide for Plush Lovers
FAQ
Is it possible to order a giant plush toy from PlushThis?
Absolutely! PlushThis provides highly free customization of any plush toys or stuffed animals. You just have to contact customer service and communicate the details of the stuffed animal you want.
What is the oldest stuffed animal ever found?
Three people were known first to create stuffed animals, Margarete, Richard Steiff, and Morris Michtom. It all started in 1879 when Margarete started sewing patterns for an elephant, which was the first animal she created. She continued with other animals later on until it reached international fame today.
Conclusion
Overall, the largest stuffed animal has to be the Guinness-certified Teddy Bear in Mexico. Have you got shocked by the huge stuffed animals we just show you? Although you can't get stuffed animals that big, don't forget to visit PlushThis to order some large stuffed animals for yourself to cuddle! We also provide customization services that can fulfill all your needs!
Reference
https://www.atlasobscura.com/places/colletto-fava
https://www.guinnessworldrecords.com/world-records/largest-teddy-bear-(stitched)/
https://www.popsci.com/science/article/2012-01/what-oldest-toy-world/