11 Best Ways to Wrap Stuffed Animals
Stuffed animals can always be great gifts, yet in order to show an earnest mind, sometimes you must've struggled to wrap those gifts just to make them look more sincere and decent. Especially you have to come up with different ideas when dealing with stuffed animals with irregular shapes.You need to prepare some extra methods of wrapping up your special gifts to surprise the receiver.
How to Gift Wrap Stuffed Animals?
Below will introduce 10 methods to wrap up different sized and different appearances of stuffed animals in detail. We will also show you how to choose appropriate wrappings for the people you're sending gifts to.
Method 1: Wrapping with translucent gift box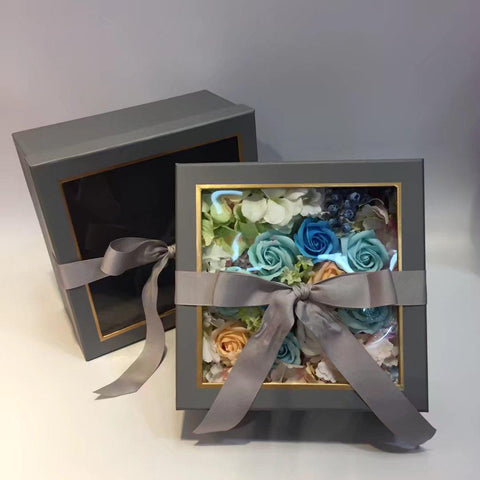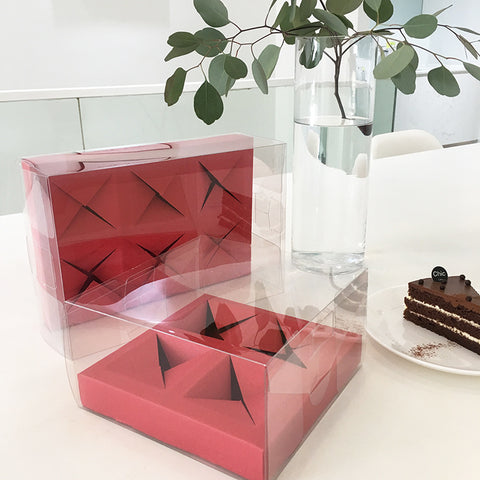 This is one of the most direct and classic ways to send a stuffed animal to your friend. Translucent boxes can be seen through and the receivers can see exactly what's there inside.
Pros
Easy to wrap, you can simply put the gift inside the box
Highly customizable, you can stuffed ribbons and paper inside to decorate
Many delicate and fine-looking boxes to choose
Looks formal and spent with effort
Cons
Box sizes increase as presents get big, which might be inconvenient
Translucent, spoil the surprise potentially
Method 2: Wrapping gifts with gift bags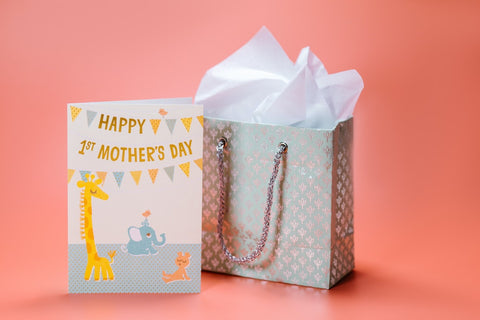 Gift bags are the most commonly used way to send any kind of gift to other people. It is fast, easy, and simple, and it doesn't require any skills or technique. Yet it is not cliche, since there are many styles and choices to make, so it is perfect for those who lack artistic cells. But of course, gift bags can be delicate and beautiful if you put effort and unique thoughts into the bags. For example, you may put colorful paper stripes inside the bag to make it looks better, you can also bury the present under the paper stripes to hide it and let the receiver dig it, which not only adds more fun but also makes the surprise more appealing.
Pros
Most commonly used, and suits almost every occasion
Sophisticated market, with many styles and figures to choose
Highly customizable, you can decorate the bag yourself, or write on cards or letter
Cons
Easily getting a normal bag, making friends feel cliche
Gift bags might be too narrow to wrap some chubby stuffed animals
Method 3: Wrapping with wrapping paper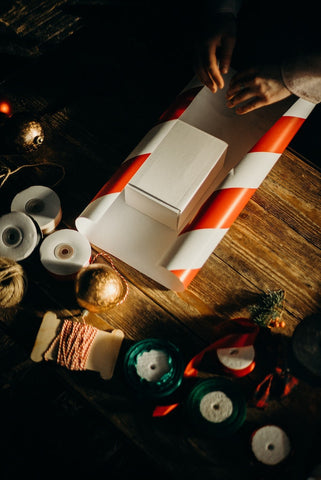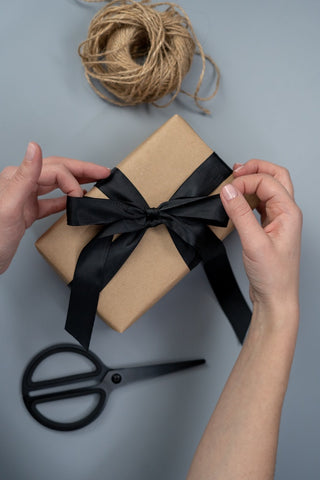 Wrapping paper is also one of the most used methods to pack or wrap up presents just as gift bags. Compared with gift bags, wrapping papers are usually used when products already have their own boxes or packages, yet you don't want to just show the box or the original wrap. There are many gift wrapping papers of different colors, different patterns, and different paper materials. There's always an appropriate one if you seek it carefully.
Pros
Make the present a surprise
Receivers have to remove the paper to see the present, increase the interaction
Multiple colors and patterns to choose
Cons
Can't be used on products with strange boxes or wrappings
The paper has to be folded by hand, and people who aren't good at it might make it look bad
Method 4: Gift box with light and music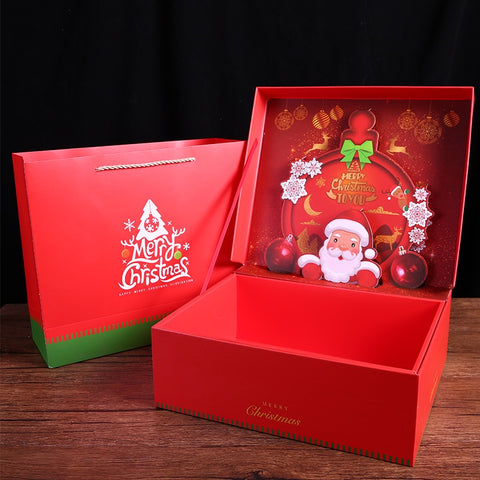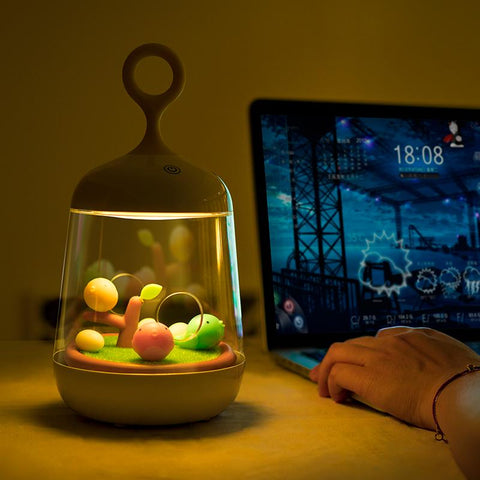 Presents in a gift box are usually considered as well prepared. Nowadays, there are many different kinds of gift boxes, the fanciest type is the one with music and lights. However, gift boxes with light and music are usually small, since they have all the lights and speakers and PCB components inside. As a result, you can only put small or tiny stuffed animals in the box.
Pros
Fancy and cool, making whoever receives the present"Woah!"
A refined gift box can be a gift itself
Music and light make the gift box fun and playable
Cons
Those boxes can only wrap small stuffed animals in them
The prices of those boxes are usually expensive
Method 5: Put them in the baskets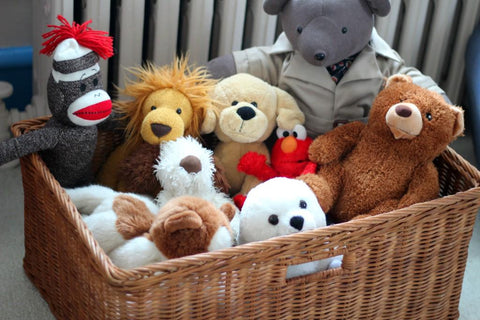 Image from: https://projectnursery.com/projects/big-boy-blue-and-red-bedroom/
HAHA! Baskets are usually where we store our stuffed animals. Some of you guys might think it's a bit informal or awkward choosing a basket to carry presents. Let me tell you, there are many pretty baskets with fabulous designs, and baskets are definitely a very innovative thought to wrap your stuffed animals. Especially since they can store multiple stuffed animals at the same time, and they can be reused as storage for presents.
Pros
Can store multiple presents at the same time
Can be reused
Great appearances to choose
Cons
Not flexible, might not be convenient
Method 6: wrapping with scarves and fabrics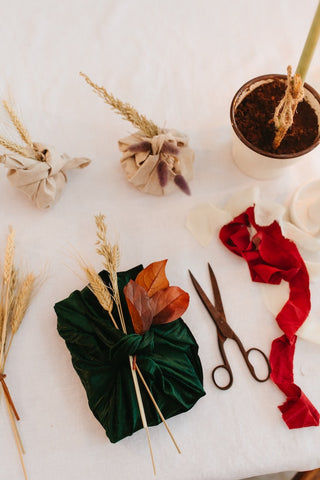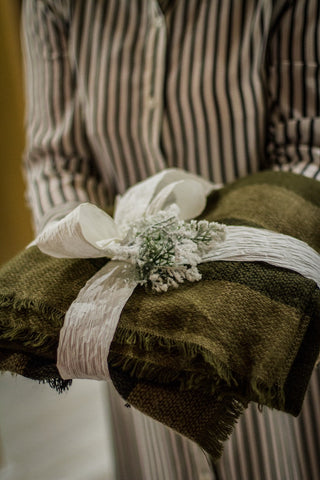 Wrap it up with something unique! Ever heard of scarves and fabrics as the wrapping for presents? Well, they actually exist, and they are used commonly in our daily lives! We can sometimes see people pack something with a piece of cloth or fabric and wrap it up like a bag. You may simulate that and do the same thing! The best part about this method is that you can choose the cloth with the right patterns. You can also splice and stitch fabric together to make the desired patterns.
Pros
A very creative way to design and craft the wrapping on your own
Unique way of wrapping up
Receivers can reuse it
Cons
The shape is not fixed, so the layout might get messed
Require strong crafting and hands-on ability
Method 7: Vacuum compression wrapping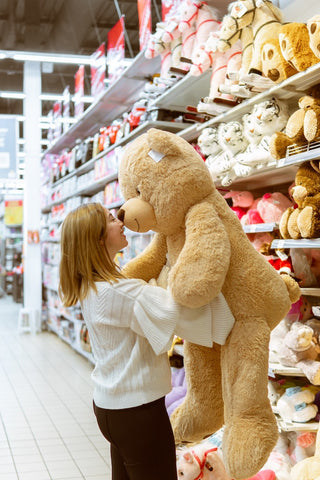 Prepared a huge teddy bear but don't know how to wrap such a big stuffed animal? We can help! You may find a vacuum machine to compress it, once it's done, the stuffed animal will shrink into a very small size and be easy to wrap. Also, what's funny about this wrapping is that when the receivers get it, they usually believe the stuffed animal is just average size, but when they open the compressed bag and air goes in, the stuffed animal will swell and return to its original size. That would be a double surprise for the receivers.
Pros
Great creation
Can save up space for convenient wrapping
Double surprise which is the best part
Cons
Need specified machine to complete the process
Can't compressed too long, or the stuffed animal will reshape
Method 8: Balloon wrapping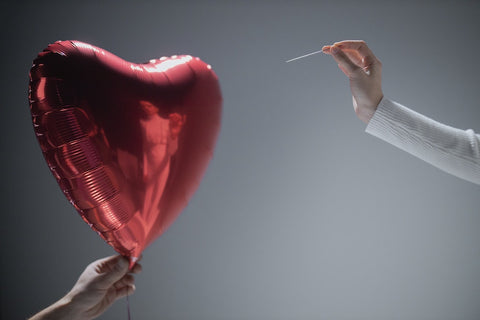 Don't get shocked yet, and yes, balloons can be used to wrap your stuffed animal, and it is very dramatic. The steps are basically to find a balloon that's bigger than your stuffed animal, then stuff the animal in and blow it up, then blow up and seal the balloon. Whenever the present is given, the receiver has to pop the balloon with a needle in order to get what's inside, which is pretty fun!
Pros
Very interactive and dramatic way of wrapping the stuffed animal
Customizable, you can also stuff ribbons and paper stripes into the balloon
Many balloon styles to choose
Cons
The popping of the balloon to get the present might not be appropriate for everyone
Method 9:Wrapping with wrapping paper into Halloween candies
Similar to wrapping paper, the figure, and the thought are more creative. You just place the stuffed toys at one edge of the wrapping paper and roll it over like candy. Gather the two ends of the candy and tie them up with a thread, then the stuffed animal "candy" is ready to go!
Pros
Pretty and cute looking
A surprise for the receiver
Highly customizable
Cons
Only works for stuffed animals in certain shapes
Method 10: Use the Christmas tree to decorate your present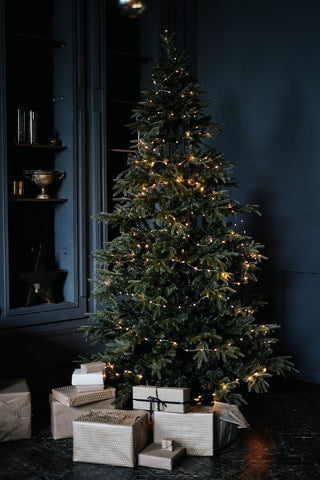 Using a Christmas tree to help you decorate the stuffed is definitely a good idea and it is never outdated! You can pack the stuffed animal however you like and place them under the tree and hang them on the tree. Also, you may hide your present in the socks and hang them on the Christmas tree.
Pros
The classic method of wrapping presents
Aesthetic
Cons
Might be a little cliche
Can't use it every year
Method 11: wrapping with plastic paper among flowers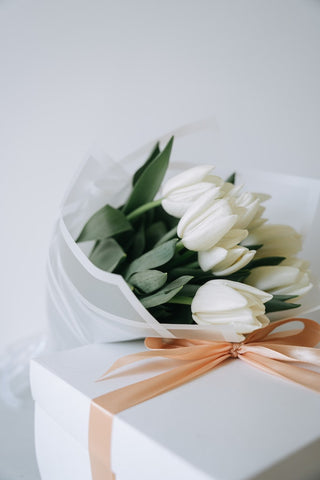 A classic romantic way of sending a gift on Valentine's Day or Anniversary. Just wrap the stuffed animal up and put it among the flowers; the flowers can be roses or any kind of flowers your lover likes. It is romantic, efficient, and effective.
Pros
Romantic and classic
Quick and effective, usable when time is short to prepare
A hidden surprise in among the flowers
Cons
Cliche style
Only suitable for small stuffed animal
What is the best way to wrap stuffed animals?
According to the methods provided above, and consider overall, the best solution is wrapping paper. It is cheap, versatile, and diverse to choose from, suitable for any scenario or anyone, and eco-friendly. Yet, of course, if you want a more unique and special, or more of a personal approach to make a memorable present, you're free to use any method above, they are all great methods. Below are some suggestions for you to think about before sending a gift.
Consider based on the objects you're sending
Besides choosing the appropriate stuffed animals for your girlfriend, or boyfriend, you have to prepare the right wrapping for them. For example, you can send your girlfriend a refined music box with a cute stuffed animal inside. However, you definitely can't send your little baby a pop balloon which absolutely will scare him/her.
Consider choosing to wrap based on dates and scenario
An appropriate wrapping that fits the current time can construct the atmosphere correctly. For example, you may consider sending gifts that are wrapped up in respective styles. During Christmas, you may collab your gift with the Christmas tree; on Halloween, you may wrap up your stuffed animal in the Halloween candy paper wrap; for the wedding, you might want some dramatic effect with the surprising pop balloon or the romantic roses to decorate your gift. All in all, only choosing the right wrapping can construct and maintain the atmosphere.
Cost factor
The cost of wrapping is also something you need to think about. If you want to make the most luxurious gift box, then choose the gift box with light and music, adding some more decoration like paper stripes or ribbons. If you want cheaper wrappings, then you should probably go with wrapping paper.
Environmental factors
Environmental is also a factor. I know the gift is important for you and there shouldn't be many restrictions on what you want to do, and there's nothing that you must obey or follow. But it is always beneficial to consider our own land and environment. You may try to choose paper-made material to wrap up your present, and avoid plastic and metal stripes and one-time props. Expand your imagination and make something creative and eco-friendly.
You may also like:
How to Display stuffed animals?
How To Wash Stuffed Animals? (Full Guide)
How To Make Unique Stuffed Animals?
Unique Names for Stuffed Animals of All Kinds
Conclusion
In conclusion, wrapping your stuffed animals can be a really personal thing. You have to choose the wrapping based on your budget, the object you're sending to, the occasion and so many other factors. But one thing you should remember is that whatever you do, you must put your effort into the wrapping to make it look well-prepared. That will show the receivers you take the present seriously and your earnest mind. Also, fabulous wrapping definitely needs a great present, since that's the most important part. And for that part, we got you covered, come to PlushThis to select a great stuffed animal!