16 Best Stuffed Animals for Different Types of Boyfriends in 2023
Stuffed animal is one of the most cozy and romantic gifts for girls to give to their boyfriends. It can not only express your love and care for him, but also increase the intimacy and sweet atmosphere between you. But do you know? Different plush toys have different meanings and styles, and you have to choose the most suitable one for your boyfriend according to his preference and personality. Here we will tell you how to pick the perfect stuffed animal for your boyfriend!
This article will introduce 16 fine-crafted stuffed animals. You may choose carefully among them for this important gift to your loved one! Come take a look! Don't think boys don't love cute things, they just always pretend to be tough, but there's always a stuffed animal that would soften his mind!
Choosing the best stuffed animal for your boyfriend's type
Different types of boyfriends will have more suitable styles and styles, and before checking out our list of recommendations, you should be aware of the plush toys that are suitable for your boyfriend's type.
Gentle and considerate, like a romantic literary young boyfriend
If your boyfriend is a gentle and considerate literary young man who likes romance, then you can give him a cute bear or bunny. These plush toys represent your dependence and trust on him, and can also make him feel your tenderness and sweetness.
Literary young boyfriends tend to like cute, romantic things, just like the beautiful you. So, besides bears or rabbits, other cute style Plushies will also suit him.
For example: Pink Lovely Teddy Bear
This pink teddy bear is soft to the touch, and the pink peach heart on the head symbolizes your love, which is the most suitable plush toy gift for literary and romantic style boyfriends!
Energetic boy with a sense of humor
If your boyfriend is a happy-go-lucky person with a good sense of humor and likes to be funny, then you can get him a funny piggy or puppy. These stuffed animals represent your appreciation and support for him and can also make him feel your optimism and energy.
You can take the gift and tell him, "Hey sweety, you are as energetic as this puppy."
For example: White Dog Stuffed Animal in a Mug
Mature and Stable Simple Business Style Boyfriend
If your boyfriend is a mature and stable business man who likes simplicity, then you can get him a simple robot or astronaut. These artistic and dignified plush toys represent your respect and trust in him, and can also make him feel your elegance and taste.
For example: Cyberpunk Robot Plush Toys
This robot is made of high-grade leather fabric, which is very dignified and upscale. Perfect for the steady business style boyfriend. This robot plush toy is suitable for his desk or car, so that he will think of you when he sees this robot.
Artistic Rock Boyfriend
If your boyfriend is cool boy who likes rock, metal, goth and other arts, then you can gift him EMO, or Goth style plush toys. This will show him that you understand his hobbies and can show your aesthetics.
For example: Emo Punk Art Couple Cat 
These two cats feature a unique fusion style of EMO Punk style and street art. What's more they are a couple model, you can have one with your boyfriend.
16 best stuffed animal gifts for boyfriend
After looking at stuffed animal gifts for all different styles of boyfriends, check out more stuffed animals that are great for boyfriends next. I'm sure you'll find your boyfriend's favorite one.
Angry Bunny Emo Black And White Stuffed Animal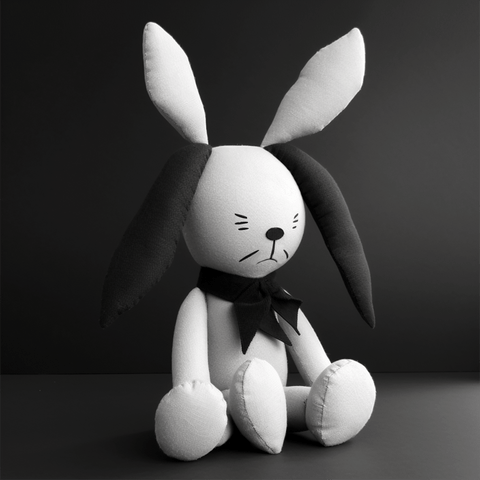 Quite a lot of guys love the style of minimalism, and this white bunny is a stuffed animal designed inspired by minimalism. The plain white body design with no superfluous decoration makes people focus on its face. The facial expression, rather than being depicted carefully, is simply drawn out of black lines and curves, which emphasize the principle of minimalism, and make it look abstract. Yet the facial expression is angry, but it looks so funny. I bet your boyfriend would love it, and whenever he's tired, seeing it would help him get back to his shape.
Pros
Smooth fabric, great touching
Suitable for simple business style boyfriends
Simple minimalism design
Tasteful aesthetics
Great for decoration 
Cons
White color, easy to get dirty
Not life-like design
Black Cyberpunk Robotic Bunny Stuffed Animal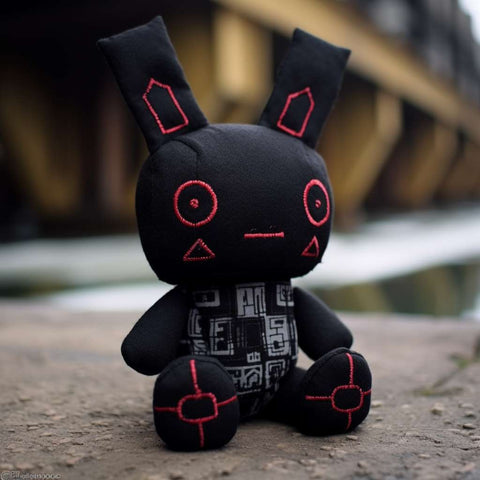 Well, I guess 99% of guys used to have a robot-world dream when they were young, and none of them could say no to this awesome black cyberpunk-style bunny. This stuffed animal is so cool, the black body and red outlines picture the robotic parts on the bunny's body. You will have to be careful that he might hug this toy in bed during the night rather than you. Just a joke, I bet any man who receives this will only love you more!
Pros
For Rock Artist Style Boyfriends
Perfect Black-red color matching
Awesome robotic theme any man would love
The black color makes it hard to get dirty
Refined outlines and patterns make it a great decor
Cons
Black color is dirty-endurant but not dust-endurant
Some might find the coloring scary
White Baby Dragon Stuffed Animal
Try this cute Baby Dragon stuffed toy!  It is also cute and chubby, which is great for hugging and cuddling, or even just watching it would be an enjoyment.
Pros
Suitable for cute and humorous boyfriend
12" size and chubby body, great for cuddling and hugging
Great coloring
Cute appearance, adding some cuteness elements for men
Cons
The scales on its body might make hugger uncomfortable
Not the best fabric to clean up
Cool Punky Grey Bunny Stuffed Animal
Pros 
Cons
 Pros
Cons
The fabric has texture, is not smooth enough
8" is a bit small
Cute Slim Black Chihuahua Stuffed Animal
As for myself, I had numerous arguments with my boyfriend about whether we should raise a pet. Do you have the same conflict? Or is it that you want to raise a pet but don't have time to do so? Well, this Chihuahua stuffed animal might be a good choice for you to temporarily forget about raising a pet. Trust me, sometimes stuffed animal is better, they don't bark and shout, and they don't require going out for walk every day, yet you can still cuddle and touch the softness of little adorable animal like this black chihuahua.
Pros
Suitable for mature and steady boyfriends
Purple star patterns make it look fancy
Small and cute
Handy, you can bring it everywhere
Cons
Some might think the star patterns are fluorous
The whole body is black, making some details hard to distinguish
Elegant and Charming White Unicorn
This pure white unicorn is made from organic cotton jersey fabric with a gold colored horn for an upscale look. It is great to place anywhere in your home as decoration. It is made of skin-friendly material.
Unicorns symbolize beauty, purity and strength, gifting a unicorn plush toy to your boyfriend shows that he is your prince.
Pros
Suitable for gentle and romantic style boyfriends
Elegant body design
Suitable for gentle and romantic style boyfriends
Cons
Pure white color gets dirty easily
Related reading: Best Stuffed Animals for Adult
Gothic Faceless Black Bunny Stuffed Animal 
Look at this bunny! How creepy it is! On its simple design plain smooth black body, it doesn't has a face! However, this is also another great explanation for minimalism. If your boyfriend like plain design and pure black coloring, then this one is a must-buy!
Pros
For gothic rock boyfriends
Great minimalist aesthetic design
Pure black coloring
Fabric so smooth
Cons
Not suitable for people like fur
Imperial Red Triceratops Dinosaur Stuffed Animal
Dinosaur lovers, don't miss out on this one! If your boyfriend dreams of having a dinosaur after watching Jurassic Park, then this life-like triceratops is something you should not miss. It also has exaggerated coloring, with tie-dye red fabric and contrast blue scales on the back. It is bold but pretty novel.
Pros
Suitable for a gentle and considerate boyfriend
Life-like design
Great for home decoration
15.5"is also great for hugging and cuddling
Cons
Some might think the coloring is ugly
Hard to clean the fabric
Lightseagreen Emo Bear Stuffed Animal
We respect and appreciate all your niche tastes! Come check out this emo-styled bear stuffed animal! The patterns and clothing designs are emo styled through and through. Meanwhile, the coloring didn't use the traditional emo-styled black colors, it is fresh and novel, fashionably combining the modern popular bright vivid colors and emo designs. If your boyfriend is a fashion guy or he likes to try the mixing and combing of different cultures, then he's definitely gonna like it.
Pros
For the cool and stylish boyfriend
Comes in 2 sizes 12" & 24", which are both pretty sizable and huggable
Emo aesthetics
Vivid coloring, lightseagreen and pink combined together
Cons
The coloring might be too bright to match other decor in the house
The pink coloring might not be suitable for guys
White Spotted Mushroom Stuffed Toy PlushThis
Surprise your boyfriend with this big mushroom! It could be a perfect prank prop to make your boyfriend "Wooh!". The simple life-like design is vivid and realistic. The mushroom seems to be harmless but under the cap it is vivid red color which means it's toxic! The stem is also down-to-details. It would be a great decor, or it could also be a great hugging pillow, since the shape of that pillow is so great for cuddling.
Pros
For the sexy energetic boyfriend
Life-like design, great for mushroom lovers
10" and faux fur fabric, perfect for cuddling
Can be used as cushion
Cons
Simple design, boyfriend might think it's too boring
White Ninja Dog Cool Stuffed Animal
Ninjas are hidden in stealth. This white ninja dog is one of the coolest stuffed animals. With its eyes covered, belts hung and fastened, and the white beard, makes it a true master. If your boyfriend is fascinated with Japanese ninja culture, then he will be crazy if you send this to him.
Pros
For energetic boys looking for strength
Cool appearance design
Ninja figure
Great as a decor
Cons
8" size not suitable for cuddling
The figure makes it hard to clean
White And Black Panda Head Pillow Stuffed Animal
Have you ever traveled to Mexico before? If you have, then you must've heard of the Day of the Dead. It's such an important festival in Mexico, and how about adding some of that elements in your house? This panda skull stuffed animal would do perfectly! With its 16" size, it can also be very hugggable.
Pros
For boyfriends with lazy personalities
Sizable 16" huggable size
Black and white coloring skull design
Cons
Pink Fluffy Bat Stuffed Animal
Look at this adorable little bat stuffed animal! What a cute little one! The unique design of a pink bat, and its big black eyes and light blue wings, will surely capture your boyfriend's attention each time. It is handcrafted with high quality fabric and materials for extra durability, and is light in weight. Boyfriend who loves cute things will love that colorful design.
Pros
Suitable for cute young fashionable boys
Cute and adorable
Small sized, you can carry it around and put it anywhere you want
Colorful color mixing
Cons
Colors to bright for guys
Hard to clean, since multiple fabrics are used
Realistic Hot Dog Stuffed Toy
Couples are always alike, and if you love eating, your boyfriend will also be a fan of all the cuisines. So, why not consider this hotdog plush toy? It is a classic American hotdog with ketchup and mustard sauce on it. The sausage and the bun also look fabulous. Come buy one for your foodie boyfriend!
Pros
Ideal for fit, muscular boyfriends
Life-like design
Appealing, stimulating the appetite
8" with rod-like shape which is good for hugging
Cons
Makes people want to eat all the time
Boyfriend might not like it scary
How to wrap and gift a plushies to surprise and touch your boyfriend?
After choosing a plush gift for your boyfriend's heart, don't neglect the method of gift giving. A good gift must be given in the best way in order to give your boyfriend more surprises and receive more touches from him. The next author recommends to focus on simple gift-giving methods, the author's personal practice to ensure effective!
Dress the stuffed animal in your outfit or scarf
You can dress the stuffed animal in a piece of your clothing or scarf to give off your scent, which will make your boyfriend feel like you're right there with him and increase intimacy. Be aware that body odor may be your boyfriend's favorite smell.
Record a video and send it along
You can pair the plush toy with a card with your thoughts and wishes, or record a sweet voice or video so that your boyfriend can hear or see your voice and smile, adding to the sweet atmosphere.
Delivered on a special day or in a special place
You can hand deliver the stuffed animal to your boyfriend on a special day or occasion, such as birthday, anniversary, Valentine's Day, etc., or make him receive it in a mysterious way, such as putting it on his desk, nightstand, car, etc., so that he can feel your surprise and romance.
What kind of stuffed animals guys would love to have?
As suggested above, guys can actually be quite tolerant of whatever kind of stuffed animals you send them. Stuffed animals can be cute and adorable, they can also be strange, weird, or even scary, there are all kinds of those kinky and weird stuff in the Emo Plush collection. According to feedback, guys do like cool emo rock style and kinky/scary stuffed animals more. Like the cyberpunk-styled robotic stuffed bunny mentioned above? It will definitely kill it. But remember, it is your choice to decide what to send to your boyfriend, and the present is not the most important part, the most important part is your relationship and your bond with each other. You can deliver your understanding and love to your boyfriend through the stuffed animal you send him.
Conclusion
Buying a stuffed animal for your boyfriend is a very meaningful and fun thing to do. According to a survey, 75% of girls said that they have bought stuffed animals for their boyfriends and most guys said that they love to receive such gifts. As long as you choose the most suitable stuffed animal according to his type and preference, and pack and present it with care, you can surely make him love you more! These are the 16 best stuffed animals for boyfriends recommended in this article, if you haven't bought a plush for your boyfriend yet, then take action now!
FAQ
Do guys really like stuffed animals?
I wouldn't say all of them will like it, but definitely, they do. Stuffed animals have different styles, many of them are liked by guys. For example, stuffed animals in cool style or niche style and stuffed animals in life-like style are pretty attractive to guys.
You may like to read:
Men Playing With Stuffed Animals Is More Common Than You Might Think
Is it weird for guys to have stuffed animals?
How can I make a gift for my boyfriend?
It is a great idea to make a stuffed animal for your boyfriend from the very start. And maybe it is not as hard as you think it is. You just have to prepare the essential material like stuffing material, needles, and threads, etc. Then do a little stitching and sewing. Yet the most difficult part is the fabric, usually in the DIY process people buy pre-made fabrics that are already crafted into certain figures, so they can just stuff the stuffing and sew it up so it's completed. For more detailed processes, you may read: Creating Unique Plushies Step by Step
What to gift a rock lover?
As mentioned above, a rock lover will definitely be familiar with emo rocks and goth rocks. Then we recommend you consider sending him our stuffed animals from the Emo Plush and Goth Plush series, which contain all kinds of elegant, weird, scary, and cool stuffed animals.